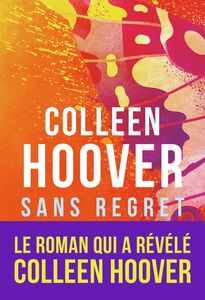 Après la mort inattendue de son père, Layken emménage dans une petite ville du Michigan avec sa mère et son jeune frère. Elle est le roc de la famille, mais, en son for intérieur, elle est désespérée. Une rencontre va tout changer : Will Cooper, son séduisant nouveau voisin, passionné de poésie slam et doté d'un sens de l'humour unique. Peu de temps après un premier rendez-vous parfait, le quotidien reprend ses droits et apporte avec lui un obstacle infranchissable. Layken et Will pourront-ils se relever de cet énième coup du sort ?
Book details
Publisher

Original text

Yes

Language

Original language

Publication date

Page count

Series
About the author
Colleen Hoover
Colleen Hoover est née le 11 décembre 1979 à Sulphur Springs au Texas. Elle grandit à Saltillo (Texas) et obtient son bac en 1998. En 2000 elle épouse Heath Hoover, avec qui elle fonde une famille. Colleen Hoover obtient son diplôme pour devenir assistante sociale et travaille dans plusieurs entreprises avant de commencer à écrire. En novembre 2011, Colleen Hoover écrit son premier roman sans intention d'être publiée. Inspirée par les paroles d'une chanson des Avett Brothers, « Décide qui tu veux être et sois cette personne ». Elle sema ces paroles au fil de son histoire, la trilogie Slammed, dont le premier tome s'intitule Sans regret. Après plusieurs mois, de nombreux blogs célèbres aux États-Unis lui donnèrent la note maximale dans leurs chroniques. Les ventes ont ensuite rapidement décollé, lui faisant atteindre la tête de la réputée liste des best-sellers du New York Times. Depuis, le succès ne l'a pas quittée. Elle vit aujourd'hui au Texas avec son mari et leurs trois enfants.
Reviews
No reviews have been written for this book.